Barbie(season 1 - present) – Barbie is the lead character of the show. She lives in a large pink mansion called "the Dreamhouse" along with her sisters Skipper, Stacie, Chelsea and their pets. Barbie is a fashion icon and has had over 136 careers. Despite being a celebrity in Malibu, she maintains being friendly, humble and good-natured.[4] Barbie, literally, has everything and her most prized possession is a never-ending closet which houses all of the clothes she has acquired for the past 54 years. Barbie is voiced by Kate Higgins.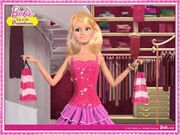 Relationships
Edit
Ken:Boyfriend
Skipper:Sister
Stacie:Sister
Chelsea:Sister
Raquelle:Friend(but Raquelle doesn't feel that way)
Ryan:Friend(but Ryan like Barbie.)
Terresa:Best Friend
Nikki:Best Friend
Summer:Adventurous Best Friend
Midge:Best Friend since ages.
Did You Know?
Edit
If you're a TOTAL Barbie fan you would know her surname is Roberts Right? Well, for people who does not know,her surname is Roberts.